International​
As an international business, manage all your risks and optimise your insurance programmes
Verlingue supports your company's international development. Supported by a specific team of experts in our subsidiaries in the UK, Switzerland, Portugal and Italy, as well as by the international network of WBN brokers, we help you build and optimise your international insurance programme.
Whether in the field of employee protection or business risks, practices, regulations and guarantees vary greatly from one continent or country to another. Companies that are developing their export business or setting up subsidiaries outside France must adapt to each local insurance context. In addition to managing their international operations, companies must also be prepared to face various forms of uncertainty above and beyond their usual business risks: geopolitical, social or economic crises, natural disasters or weather events, and, of course, health crises. Insuring your company's international operations is not something to be taken lightly. Specialised in managing employee benefits on a global level and international risk pooling, Verlingue optimises your insurance solutions and supports your business worldwide.
Balancing local market specifics and the company's international programme: a permanent challenge
An international department dedicated to supporting customers around the world
In-depth knowledge of local markets, brokers and a detailed understanding of the challenges in each region/country
An extensive network of strategic partnerships based on the UNISON model
Sharing international standards and common charters
Regular reports, quality audits and checks
An international management tool (details available soon)
of Verlingue's turnover is generated by its UK, Swiss and Portuguese subsidiaries.
Verlingue employees based in the UK, Switzerland, Portugal, and Italy.
The WBN network is present in
countries with 530 offices and over 20,000 employees.
Verlingue accompanies you
01
Build a formal global strategy
Specialised in the global management of international insurance programmes, Verlingue's teams help your company/group's central or regional management structure, formalise and update your strategic priorities in terms of employee protection. The management framework established then serves as a blueprint for all the entities and stakeholders involved in the local deployment and coordinated management of your insurance programme.
02
Identify your risks in each country
Verlingue is an international insurance broker. Thanks to our in-depth understanding of the international insurance market and our knowledge of the standards, practices and regulations in place in more than 110 countries, our consultants provide you with impartial, objective information about the local insurance market. Based on a comprehensive assessment of the risks to which your facilities, subsidiaries and employees are exposed (depending on your activity and the country in question), we work with you to build the insurance programme that best protects your interests and best meets your needs.
03
A tailor-made insurance strategy
Selection of a local or international insurer, extension of your contracts with your existing insurers, pooling of insurers, etc. Our role is to help you choose the best international insurance strategy, which provides consistent coverage worldwide, while controlling costs. Your Verlingue advisor also helps you coordinate and manage your insurance programme on a day-to-day basis, whether in the field of corporate risks or employee social protection and benefits (for both local staff and employees on mobility schemes).
04
The strength of the WBN network
To support your operations internationally, we are part of the WBN (Worldwide Broker Net-work),the world's leading network of independent brokers, since 1989. WBN is present in 110 countries. All the WBN brokers share our high level of requirements in terms of service quality and customer satisfaction. The size and dynamism of our network means we can act as your sole representative with the world's major insurers.
05
The German Desk, the entry point for our German-speaking customers in France:
The German Desk is a unique service provided by Verlingue in the insurance market. The Desk's mission is to provide support to Swiss, German and Austrian companies that have business operations in France. Based in Strasbourg, our bilingual team guarantees you the best synergies to manage and coordinate your insurance programmes on both sides of the border.
Our locations
At your side wherever you are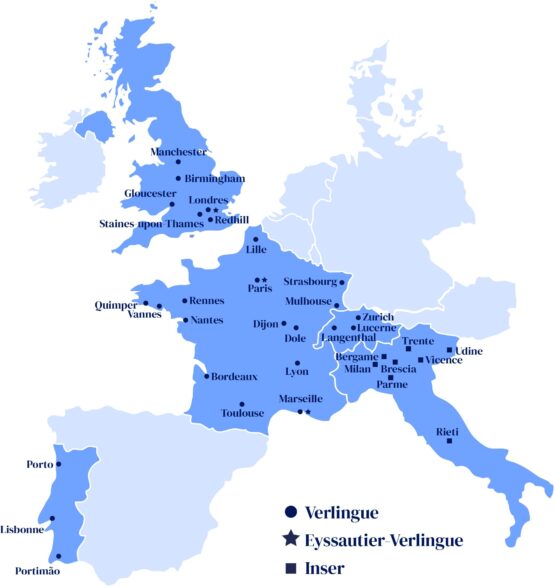 With regional French offices, 2 UK subsidiaries, 1 Swiss subsidiary, 1 in Portugal, 1 in Italy, and its international network of partners, Verlingue's experts in risk management for businesses can help you choose the right cover for all your markets worldwide.